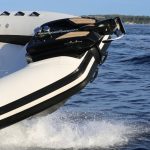 The W7 is the model that has all the makings of a large craft, benefiting from an inconspicuous size that enables it to fit everywhere, be it at sea or on land while it is being transported, until it is launched.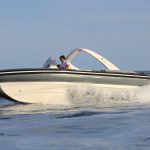 Just like its sister the W7 and its 22.6 ft hull and overall length of 26.21 ft, make the most aboard the W7i – thanks to its inbuilt engine – of a large quarterdeck open which grants you direct access to the sea.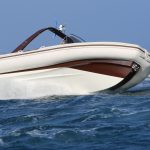 Welcome aboard the W9, a sporty rigid-inflatable craft that combines a size and engine which will enable you to travel far further than you can possibly imagine, whilst maintaining the appropriate compromise on size.
Reaching a length of 34.4 ft, the W10 positions itself as an extension of the W9, with an additional 5 ft enabling further space to be cleared at the front for lunch, further space around the cockpit, further space for the kitchen and further space for the rear sun lounge.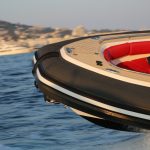 This 12.50-meter long (40 ft) Wimbi Boats® craft, the gem of our range with its proper inside cabin fitted out with a bedroom, bathroom, office area and kitchen, will take you to boundless faraway destinations.